Our company which was established in1982 ,specializes in manufacturing various kinds of spun polyester sewing thread ,and polyester draw textured yarn, poly poly thread , High Tenacity thread. During many year s development,our company has became one of the big sewing thread manufactory companies in China.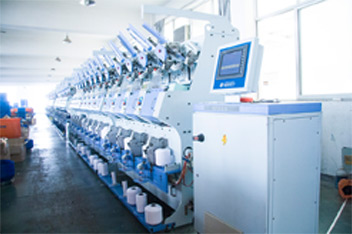 Our company is located in the Eastern Industrial Delevopment Zone,near Shanghai HangZho- u Ningbo highway, 20kilometers away from Ningbo Airport, 30kilometers away from Ningbo P- ort,on is very convenient.
Our company adopted the scientific management, and used the professi- onal equipments for dyeing , producing thread and testing .
Our main products are :
1).100% Spun Polyester Sewing Thread
40s/2/3、16s/2/3、20s/2/3/4/5/6、30s/2/3、50s/2/3、60s/2/3、70s/2/3
2).100%Polyester Texture Thread
150D/1,200D/1,250D/1,300D/1
3) .High Tenacity Polyester Filament Sewing Thread
150D/2 、 150D/3、210D/2、 210D/3
4) . Poly core Poly wrapped Spun Sewing Thread
28s/2,36s/2
5).100% Cotton Sewing Thread
34s/2,40s/2
6).Polyester Embroidery Thread
120D/2
7).Elastic Thread
37#, 42# and 63#
8)100% Polyester dyed Yarn
Our leading products, 'JIADE'brand spun polyester sewing thread are high strength,free of knots, even line,color fastness.also they are fit for sewing ,fresh in c-olor,beautiful in shape,with the varietiesof the products and complete specifications,they are used in the middle-top grade garment industry, shoemaking industry
Our company build up at this stage of good faith oriented, quality the first and reasonable price.Our products are selling to Asia, Europe, North America, South A- merica, the Middle East, Africa and other parts of the world,And obtained the general customer approval.